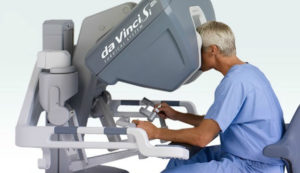 Laparoscopic Surgery for Kidney Stones
Laparoscopy (or keyhole surgery) is being performed for kidney or ureter stones that are not amenable to treatment by ESWL, endoscopy and laser or PCNL surgery. It is suitable in patients who are taking or receiving anti-coagulation (blood thinning agents) therapy.
Laparoscopy procedures include laparoscopic ureterolithotomy (for ureter stones) and laparoscopic pyelolithotomy (for kidney stones) that can be done together with pyeloplasty.
These procedures are done under general anesthesia and would require a hospital stay of 2-3 days. 3 or 4 small 5mm – 10mm incisions are made on the abdomen to expose and removed the stones. An internal fine plastic tube called a stent is usually placed in the urine tract after the surgery and would be removed after 1-2 weeks.
In laparoscopic procedures, surgical tools and a tiny video camera are inserted into the patient's abdomen through several small incisions (less than one-half inch in length). The camera transmits video images that allow the surgeon to see the kidney in great detail. The surgeon then inserts surgical instrument through two or three other small incisions and performs the operation. Over the past decade, a tremendous shift has occurred within the field of urology from open surgery to laparoscopic and robotic surgery. This move has been facilitated in large part by technological advances. Laparoscopic surgery has helped improve recovery times with minimal incisions, which further reduces risks in surgery.
Recently, the da Vinci® robotic surgical system has proliferated in much the same way. Robotic kidney stone surgery offers several unique advantages over traditional laparoscopic approaches, particularly with regards to maneuverability and suturing, which have enabled surgeons to replicate nearly any surgery conducted in an open fashion laparoscopically with the robot.
Robotic Surgery for Kidney Stones
Robotic surgery, like laparoscopic surgery, is a minimally-invasive procedure. Robotic surgery has been in use at Tulane since 2002. This procedure is usually reserved for stones, especially in those who patients who are born with anomalies in their kidneys. These conditions include: horse-shoe kidneys, pelvic kidneys, mal-rotated kidneys, ectopic kidneys (kidneys in abnormal locations within the pelvic region), and many more. Often, kidney stones are associated with blockages with the urinary tract. Using the robot can not only remove the kidney stones, but it can also correct the obstruction through robotic reconstructive procedures, such as robotic pyeloplasty. Your urologist should be able to screen you for the right type of procedure, which may include robotic/laparoscopic techniques.
How Robotic Kidney Stone Surgery is Performed
In robotic kidney surgery, the surgeon places the robotic instruments inside the patient through several small incisions in the abdomen. Often these incisions can be hidden in natural creases of the skin such as the belly button and pubic region. The surgeon uses these instruments to dissect the affected kidney and surgically remove the kidney stones, and if there is any obstruction or blockage, the surgeon can correct it at the same time. The urinary tract is then surgically reconstructed to repair any damage to the ureter and kidney caused by the buildup in fluid pressure and prevent any obstructions from reoccurring in the future, after which the ureter and kidney are sutured back together. During the procedure, a retrieval device may also be used to remove any kidney stones from the kidney. In all cases where the robot is used, a stent is temporarily placed in the patient to help urine drainage and the healing process. The stent is then removed at a later time.
Advantages of Robotic Kidney Stone Surgery.
Robotic Kidney Stone Surgery is non-scarring. Select patients are managed much better with a robotic/laparoscopic approach. Managing this complex problem through traditional open surgery often requires a long incision in the lower abdomen. With robotic surgery, we are able to access the entire operative field from three small incisions, avoiding the need for a large, permanently disfiguring scar. As noted above, our surgeons are often able to hide two of these incisions completely—one in the patient's belly button and one below the panty line.
Robotic Kidney Stone Surgery has a significantly shorter recovery time than open surgery. Because robotic surgery is less invasive than open surgery, patients who undergo the robotic procedure typically have shorter hospital stays and are able to return to their daily activities much sooner than those who have open surgery—often just 2 weeks after surgery, compared to 6 to 8 weeks for the open procedure.
Robotic Kidney Stone Surgery is more precise and safer than laparoscopic surgery. Robotic surgery offers increased range of motion at the tips of each instrument, as well as scaling of motion and tremor-dampening technology. These factors, combined with the enhanced visualization provided by the da Vinci Si's 3-D high definition camera, allow the surgeon to more precisely dissect and suture the ureter, which typically is only a quarter of an inch in diameter. The da Vinci also provides surgeons with a better suturing capability than can be achieved in open or laparoscopic surgery. In addition, recent studies indicate that the robotic procedure can be done with less blood loss, a shorter hospital stay, decreased complications and improved outcomes compared to laparoscopic surgery. Other potential benefits include less post-operative pain and less risk of infection.
Discuss whether you are a candidate for the robotic management of your kidney stones. Remember, only select patients may be eligible for this precision driven procedure.